About AppliedVastu®
In the world of Vastu Shastra, AppliedVastu™ is an organization that started as a hobby of two civil engineers named Apurba Das and Shouvik Das. In the early stages, their pursuit was designing new houses according to vastu shastra and observing the personal astrological charts of the occupants of those houses. They realized vastu is essential for all types of residential, commercial, or industrial structures. And it is straightforward for a civil engineer to provide vastu services appropriately, and the quality will be outstanding. Along with the professional practice, They gathered extensive knowledge of vastu shastra and astrology, and the AppliedVastu began to. In this way, a hobby turned into the professional vastu consultancy name AppliedVastu™.
The priority of AppliedVastu is to offer their users accurate vastu consultancy services and collect case studies to improve modern vastu shastra. Already, AppliedVastu has done thousands of works and accumulated case studies in various countries and states across India and the world.
AppliedVastu® Key Professionals
The core philosophy of AppliedVastu®
AppliedVastu is a research cum application-based vastu consultancy, distinguished from other vastu shastra consultancy by combining the latest technological advancements with maintaining actual Vedic rules.
AppliedVastu united Vedic vastu shastra, Jyotish Shastra, and modern architecture in a single entity. Jyotish shastra helps to study vastu on an individual level & modern architecture helps to deliver accurate vastu service.
Thousands of case studies help them decode the effects of vastu on contemporary architecture.
In a single word, the core philosophy of AppliedVastu™ is based on Vedic vastu shastra, Jyotish, modern architecture & thousands of case studies.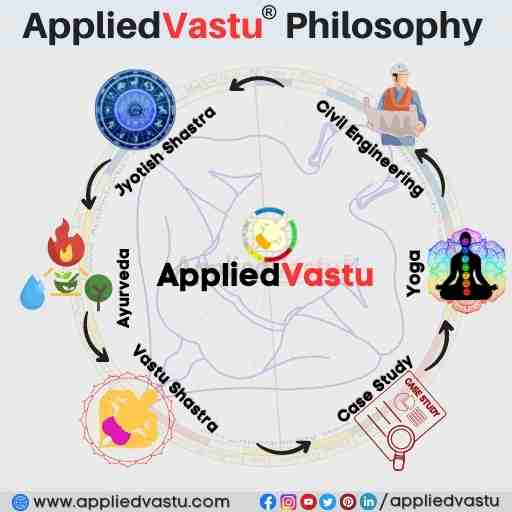 Five Steps Method of AppliedVastu
It is impossible to give the right solution without proper subject analysis. The same rule applies to vastu consultancy. The most important thing to analyze any vastu correctly is the correct geometric calculation.
Accurate Vastu analysis is impossible if the Vastu Purusha Mandala is not precisely superimposed on the scaled map after determining the right direction. AppliedVastu always prefers the polar coordinate method (Angular), which is most useful for all vastu premises.
AppliedVastu consultancy follows five specific steps while analyzing any vastu. These steps are essential for accurate vastu analysis as well as solutions.

1. Five Elements of Vastu Shastra.

2. 32 Entrance Effect.

3. Analysis of 16 Zones ( Derived From Viswakarma Prakash ).

4. 45 Energy fields Of Vastu Purusha Mandala.

5. Effects of Symbols and objects on Vastu space.