Vastu For Bed Room - Important Vastu Tips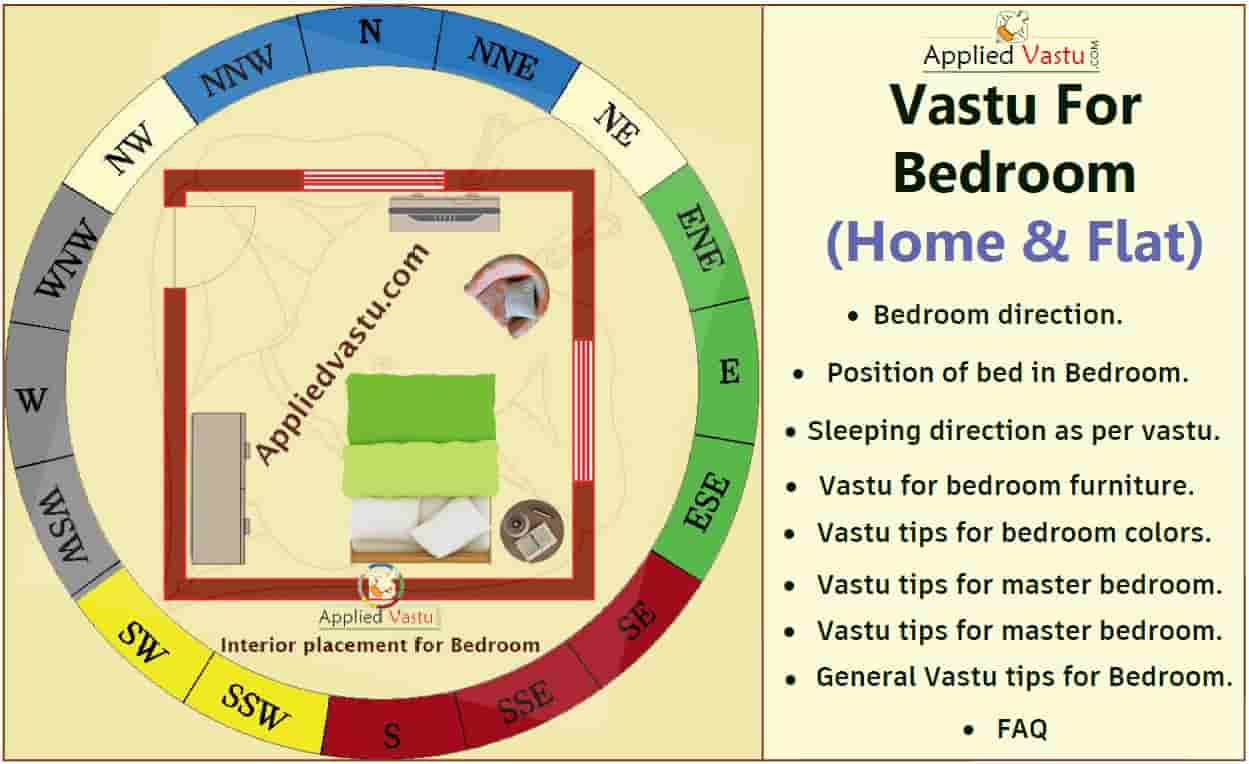 If we ask you that what is the most happening room in your house? Your answer is undoubtedly bedroom. After a long day toiling, it becomes your favorite place where you can relax, rest your body and enjoy your evening with your loving wife, children, and other family members. We spend more or less one-third of the day in the bedroom. In other words, the vastu for bedroom on us is much more significant than in different rooms.
Modern people become more and more fashionable about their bedroom design daily with the increasing popularity of interior designers worldwide. But it is not enough if we want to invite happiness and positivity into our life. As for people going through daily life challenges, a proper vastu compliant bedroom is necessary that helps to start afresh and energetic the next day.
This article will discuss the vital vastu tips for bedroom that help to improve overall vastu of a bedroom.
Content of Article:
If you want a peaceful, sound sleep and harmonious life with near ones, invite vastu shastra to your bedroom. Here we come with our main discussed topics:
• Bedroom direction as per vastu
• Position of bed in bedroom vastu
• Sleeping direction as per vastu shastra
• Vastu for bedroom furniture
• Vastu tips for bedroom colors
• Vastu tips for the position of master bedroom
• Bedroom direction recommended for other family members
• General vastu tips for designing vastu perfect bedroom

Bedroom direction as per Vastu
North Direction: 'Kuber 'is the head of this direction. If you are a young couple, choose this direction for your bedroom and store valuables, important papers, cash, jewelry, etc.
Bedroom in the east: 'Surya' and 'Indra' are governors of this direction. If you are an unmarried person, this direction is ideal for you.
A bedroom in the west: Deity 'Varun' is the ruler of this direction. If you are still a student, and want success in examinations, choose this direction for your bedroom. The bedroom in the west is also believed to increase the probability of birth of girls in a family.
A bedroom in the Northwest: Have you just started your journey of life as a newlywed couple? Then this direction, governed by Deity 'Vayu,' is the ideal direction for your bedroom.
Position of bed in bedroom Vastu
The Vastu consultants always advise placing a bed head towards the east or south. Place your bed against the south or the west wall, and make sure that your legs point towards the north or the east when you lie. We understand it isn't easy, especially in tiny bedrooms. As per Vastu for the bedroom, never push your bed against the corner wall of the room, and it creates a blockage into flowing positive energy freely through the area.
Sleeping direction as per vastu shastra
Sleeping with heading towards the south:
According to 'Vastu Shastra,' the south is the deity's house, ' Yama,' so this sleeping position is ideal if we want a long quality sleep and get enriched with positive vibration. As it balances with the Earth's magnetic field, it ensures a balance between positive and negative energies and invites wealth and happiness. So, do you want to feel a significant life improvement? Try this sleeping position from today.
Sleeping with heading towards the east:
We know the Sun rises in the east every morning. So, you can consider this direction as the best sleeping direction if you want to start your next day with a fresh feeling. According to ' Vastu Shastra,' it is also a good sleeping position for academic persons and students, increasing concentration and sharpening memory.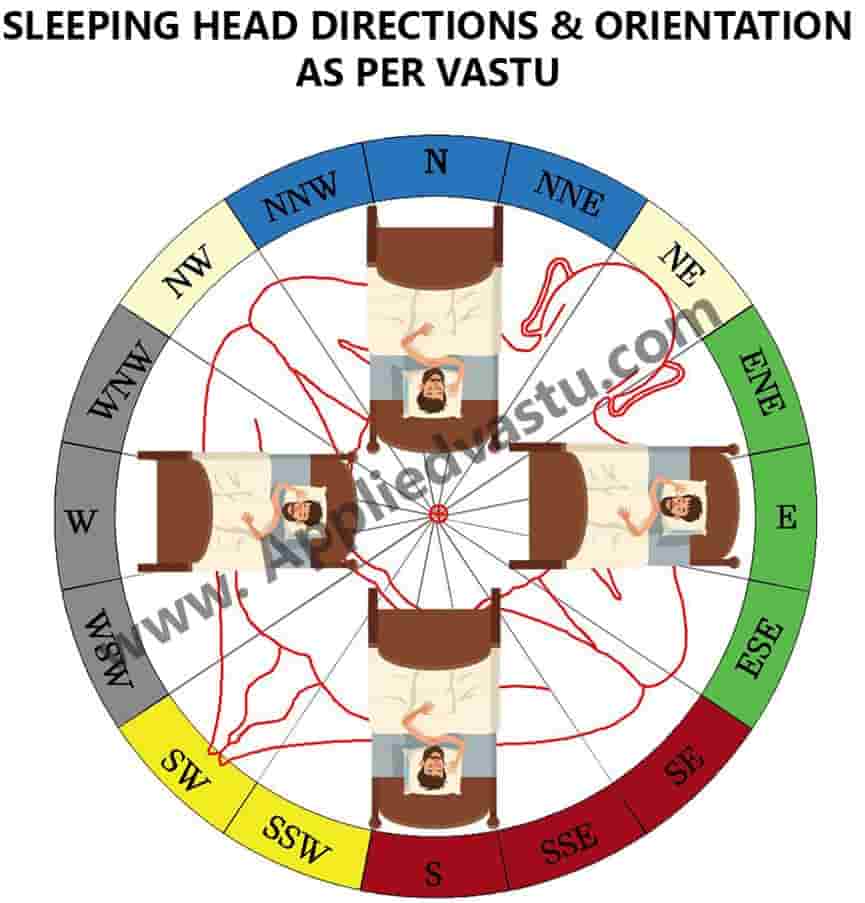 Sleeping with heading towards the west:
This position is neutral because it has not too many beneficial effects as east or south. But if you want to become a successful businessperson or look for progress in the workplace, this is probably the best sleeping direction.
According to Vastu Shastra, sleeping with the head towards the west with legs in the east brings wealth. Similarly, according to Vastu Shastra, sleeping with the head towards the south or west direction with toes pointing towards north or east is also believed to have many benefits.
Vastu for bedroom furniture
Correct placement of the furniture in the bedroom is essential to make us feel at home. No need to give too much stress to your brain in these matters. Here we come with the tips of the Vastu experts for the perfect position for bedroom furniture:
• Position of mirror & Dressing table:
According to 'Vastu Shastra,' never place a mirror in the position where it reflects the bedroom entrance. You also should not place rusted or broken mirrors in the bedroom if you don't want to attract negative energy.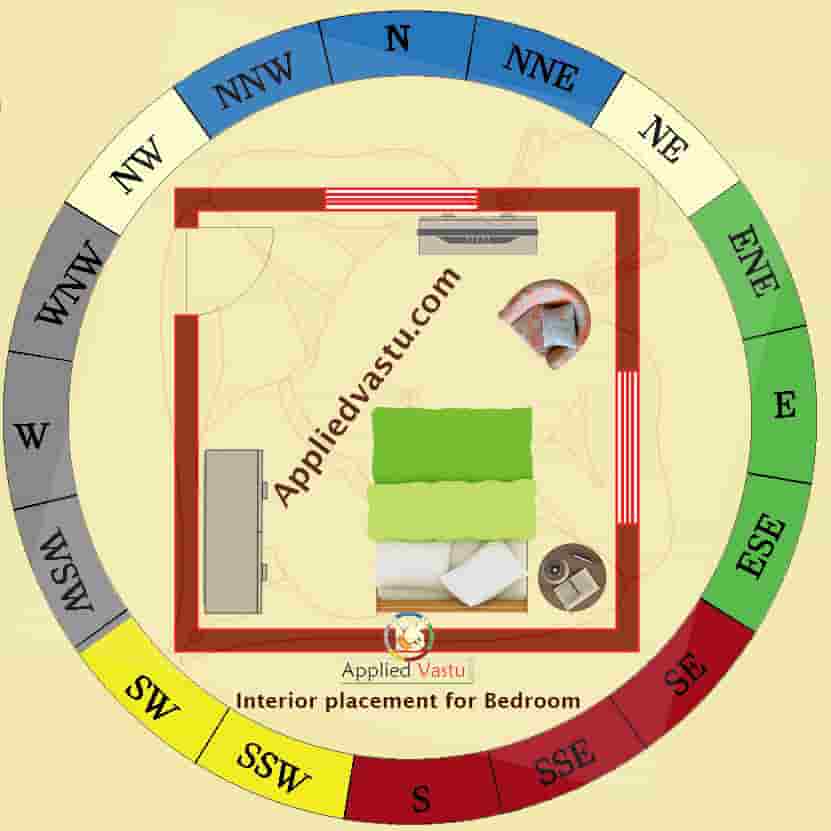 • Cupboard or wardrobe or almirah in the bedroom:
A cupboard or almirah is essential for furniture in our bedroom. We keep all our valuable belongings here. So, the direction, placing, color, the arrangement must be ideal according to 'Vastu Shastra.' Here we come with specific Vastu tips:
• It would be best to place your cupboard facing the southwest and the northwest, ensuring a constant flow of money.
• Heavy wardrobe! Don't worry. Just place it on the west or south wall. But don't forget to leave 3 inches gap between the cabinet and the wall, as it ensures the circulation of positive energies in the surrounding area. Follow the advice of the Vastu experts.
• Don't make the wardrobe doors facing the toilet wall. It causes more outflows of money and wealth. Similarly, if the wardrobe doors open towards the south, it causes frequent quarrels and disruptions in the family. But the east is the right direction for this, as per Vastu.
• Paint your wardrobes light or pastel shades (i.e., light yellow, white and cream, beige and light grey) to ensure a harmonious flow of the positive energies.
• According to the Vastu principles, a solid square or rectangular shaped iron or wood cupboard with a single-door system is suitable for the bedroom.
• Now a day's buying a wardrobe with a mirror is a fashion. But we should always avoid this. As the mirror on it reflects the person sleeping on the bed. It causes health problems, prolonged illness, and spreads negative energies. So, what should we do? If we already bought a cupboard with a mirror! Follow simple Vastu principles and cover it with a curtain.
• The wardrobe should have enough space to arrange everything perfectly inside it. As previously said, 'Lord Kubera ' (God of Money) rules the north direction, so the locker inside the almirah should never be kept empty. At least keep five-seven silver coins inside it facing the north. It ensures prosperity and the continuous flowing of cash in the family.
• Bedside Table and Lamp We should always keep the bedside table and lamp northwest, especially if the table has medicines.
· TV or Television Sets According to 'Vastu Shastra,' we should not keep TV sets in the bedroom. But most people, who enjoy bedtime leisure watching TV, ask for Vastu remedies immediately after hearing it. The Vastu experts prescribe installing a TV in the south direction of the bedroom. Try not to install it in the center.
Vastu tips for bedroom color:
Now choosing a color for bedroom decoration is also essential to transforming our bedroom into a cozy place. Different colors have a different impact on other people. However, to ensure a positive aura around you, you can choose these top 10 colors prescribed by Vastu experts:
Blue: calm and tranquil environment. Green: Relief and healing.
Yellow: Contentment, intellect, and cheerfulness.
Pink: Love, delight, and togetherness (suitable for a newly married couple).
Brown: Restfulness and elegance. Purple: Dignity, equilibrium, and compassion (suitable for people suffering impatience)
Orange: Self-esteem, abundance, and health (people suffering from anger problems should avoid orange).
Indigo: spiritual and cognitive capabilities (especially suitable for a child)
White: White color signifies peace and purity and zero negativity. Grey: Accuracy and delicacy.
Vastu Tips for Position of Master Bedroom
Don't you feel confused regarding the ideal direction of the master bedroom, the essential room in the house? Here the Vastu experts also come with specific tips to eliminate all your confusion:
• The ideal direction of the master bedroom should always be the Southwest corner of the home.
• The door with a smooth opening at ninety degrees is perfect for the master bedroom.
• Now, what about heavy objects such as almirahs and cupboards? 'Vastu Shastra' says that the west, southwest, or south direction is ideal for placing them to ensure positive energy.
Bedroom Direction Recommended for other family members
We cannot live alone in a house; we need our dear ones. So, there are also specific bedroom directions recommended for other family members:
Couple bedroom: If we ask you, what is the main foundation of any healthy relationship? Your answer is undoubtedly mutual love, care, and respect. So, couples! Choose the south, southwest, and west directions for your bedroom to enhance the romance and intimacy in your loving relationship.
Room for unmarried girls and boys: Do you have an unmarried girl or son in your house and face a delay in their marriage? Don't get tensed. The problem may be in the location of their rooms. The northwestern and the extreme western sides of the house are ideal for constructing an unmarried girl's bedroom. Similarly, the outer southwestern side is best for unmarried boys.
Child's bedroom: What are we without a child, right? So, to bring energy and positivity in these little ' lives, 'Vastu Shastra' suggests the west direction for their room, with the bed in the southwest part.
Guest room: Indian culture treats their guests with God. For this reason, we should never ignore our guest room. According to the Vastu experts, the northwest direction is the perfect location for the guest room.
General Vastu Tips to design Vastu perfect Bedroom:
Here we come with some do and don't general Vastu tips for designing Vastu perfect bedroom:
Does:
• Only the head of the family can occupy the master bedroom according to 'Vastu Shastra.'
• In a multi-story, we should always choose the southwest corner of the top floor for the master bedroom.
• Hanging a beautiful painting or any portrait on the wall makes your bedroom look more pleasant to someone entering your bedroom.
• Many couples love to keep showpieces or art in their bedroom. As per Vastu's tips for a couple's bedroom, keeping them in pairs is more suitable than solitary items.
• According to 'Vastu Shastra,' sea salt keeps negative energies at bay, so use sea salt when mopping the floor.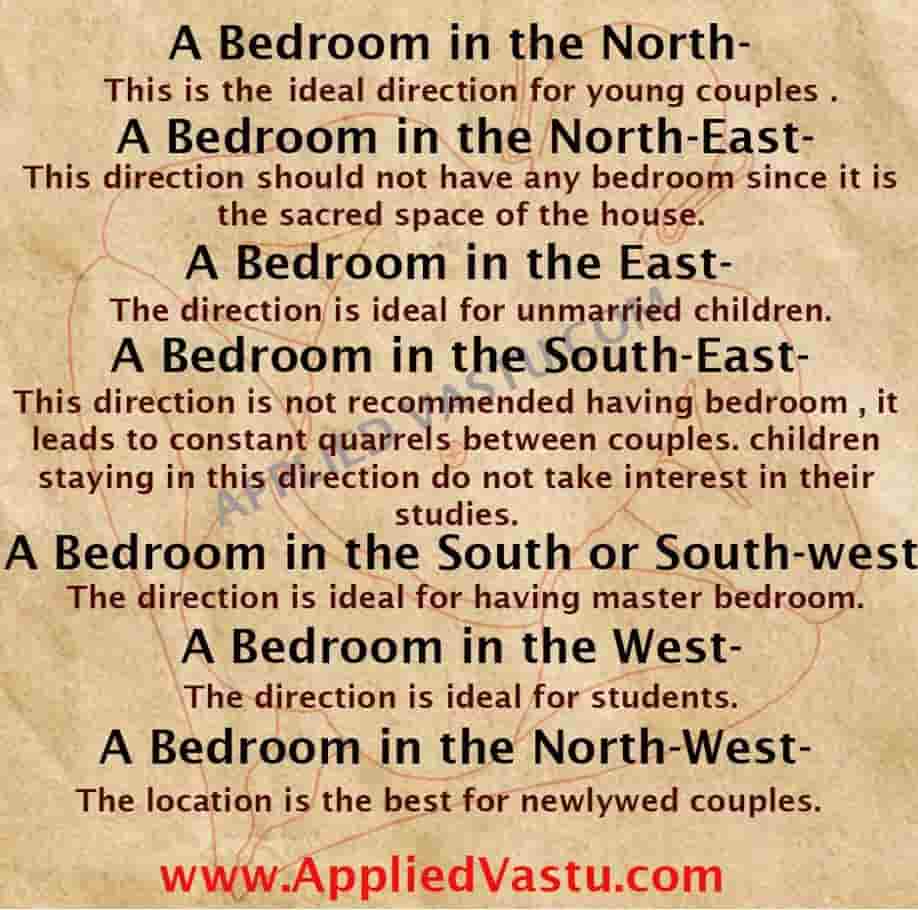 Don't:
• The Vastu experts never recommend the northeast ('Shiv') and the southeast directions ('Agni) for bedrooms. It affects a couple's relationship and disruption in studies and sleep disorders.
• You should not better try sleeping with your head in the north direction it triggers many health problems in your body (neurological issues, long-term sleep deprivation, etc.) Besides, per Hindu tradition, we lay his dead body in this direction until cremation when a person dies.
• According to 'Vastu Shastra,' people should not keep their heads toward the north while sleeping in the northern hemisphere. Similarly, the people who live in the southern hemisphere should not sleep with their heads toward the south while sleeping.
• Mirror right opposite the bed affects health
• Do you have the habit of storing any items below the bed? Stop it immediately. As per 'Vastu Shastra,' it is harmful to marital relationships.
• Never use dark colors for a bedroom, as dark colors absorb negative energies from the environment.
• Never use too dim or too bright light in the bedroom
• According to Vastu experts, keeping an aquarium in the bedroom is not good; better avoid this.
• According to 'Vastu Shastra,' Pooja Ghar in the bedroom is not a good idea.
FAQ
Q.1 Which direction should we keep our head in while sleeping?
Answer: As per Vastu, we should keep our heads pointed southward while sleeping. But we should never sleep with north-south body position.
Q.2 Where should the bed be placed in a master bedroom?
Answer: According to 'Vastu Shastra,' placing a bed against the wall in the south and or the west is an ideal bed position for the master bedroom.
Q.3 What if the master bedroom is in the northeast direction?
Answer: Master bedroom in northeast direction may lead money loss, delay in marriage of your daughter, obstruction in all work.
Q.4 Which Colour is lucky for the bedroom?
Answer: As per Vastu, Light red or pink is lucky for a bedroom, especially for a married couple, as it brings warmth, helps to form a strong bonding relationship.
Q.5 Where should almirah be placed in the bedroom?
Answer: According to the Vastu experts, almirah should be placed towards the south wall.
Q.6 Should the bathroom be attached to the bedroom?
Answer: If you want an attached bathroom, the southwest direction of the house should be your first choice for constructing the master bedroom. If it is not possible, the South or West direction is also an excellent choice for the master bedroom.
Q.7 Which photo should we keep in the bedroom?
Answer: According to 'Vastu Shastra,' we can keep positive photos like family photos, photos of flowers, or birds in the bedroom. Besides, we can also keep a beautiful painting of a couple in smiling or dancing mode that balances the harmony between the couple.
Conclusion:
We spent simply about one-third of our lives in the bedroom. So, with proper Vastu guidelines, making a Vastu-compliant bedroom is easy if we want health, peace, prosperity. The Vastu consultant of Applied Vastu.Com will help you make your dream bedroom with their proper guidance.