Vastu Compass By AppliedVastu
Vastu Compass By AppliedVastu | Direction in Vastu Shastra
All the calculations of the subject of Vastu shastra are based on the exact geometric dimensions and directions. It is impossible to calculate the vastu of property without finding the right direction. And to determine this direction, you need the right instrument, the vastu compass. There are many compass devices available in the market, but It is not required to purchase any compass device in the age of technology. AppliedVastu has already published the free online vastu compass app on the google play store. Search vastu compass on the google play store and download the AppliedVastu app. Moreover, you can download our 16 zones vastu compass app by directly clicking on the image below. The application has been made with some special facilities to increase the effectiveness. Users can grid any floor plan with 16 zonal divisions and accurate vastu directions by using its capturing facility. Users need to maintain some special guidelines to improve the accuracy of our application.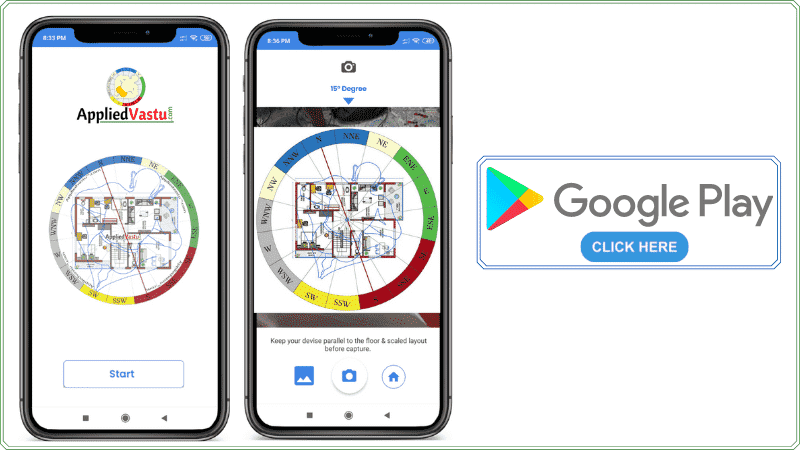 First, let's discuss the importance of each direction in vastu shastra. Then we will discuss in detail how to use the digital compass app to determine the correct sixteen directions with marking.
Importance of directions :
The foundation of vastu shastra stood on directions and its influences. Every direction has its effect on all living creatures of the earth. Vastu shastra is the subject where consequences of direction are taken deeply to analyze the impact on earthly beings. In a single word, vastu shastra is the science of directions. There are eight main directions references found in ancient vastu manuscript documents. But in "Viswakarma Prakakash," slokas indicate the presence of 16 directions. First, we will discuss eight conventional dimensions.
Among the eight directions, North, East, south, and west are the cardinal direction. There is another zone between two cardinal directions, i.e., Northeast, Southeast, Southwest & Northwest. These are known as inter-cardinal. In the ancient Vastu manuscript, all eight directions are ruled by each deity or Dikpalas. Each dikpalas has its own characteristics, and it is the guardian of that particular directions
Video : How to use Vastu Compass By AppliedVastu App
These are the dikpalas name given below with respective directions :
North: Kubera
North-East: Ishaan
East: Indra
South-East: Agni
South: Yama
South-West:Nairuti
West: Varun
North-West: Vayu
Besides the conventional eight directions, AppliedVastu decoded 16 zones from an ancient manuscript name Viswakarma Prakash. The slokas describe that we can further divide into another zone in between every two cardinal and intercardinal directions. That means between north and Northeast, and another area is named North of North-East (NNE).
List of 16 directions and their positions:
NNE: North of North-East
ENE: East of North-East
ESE: East of South-East
SSE: South of South-East
SSW: South of South-West
WSW: West of South-West
WNW: West of North-West
NNW: North of Nouth-West