Vastu Tips For Kitchen: A Complete Guidance
All about Kitchen Vastu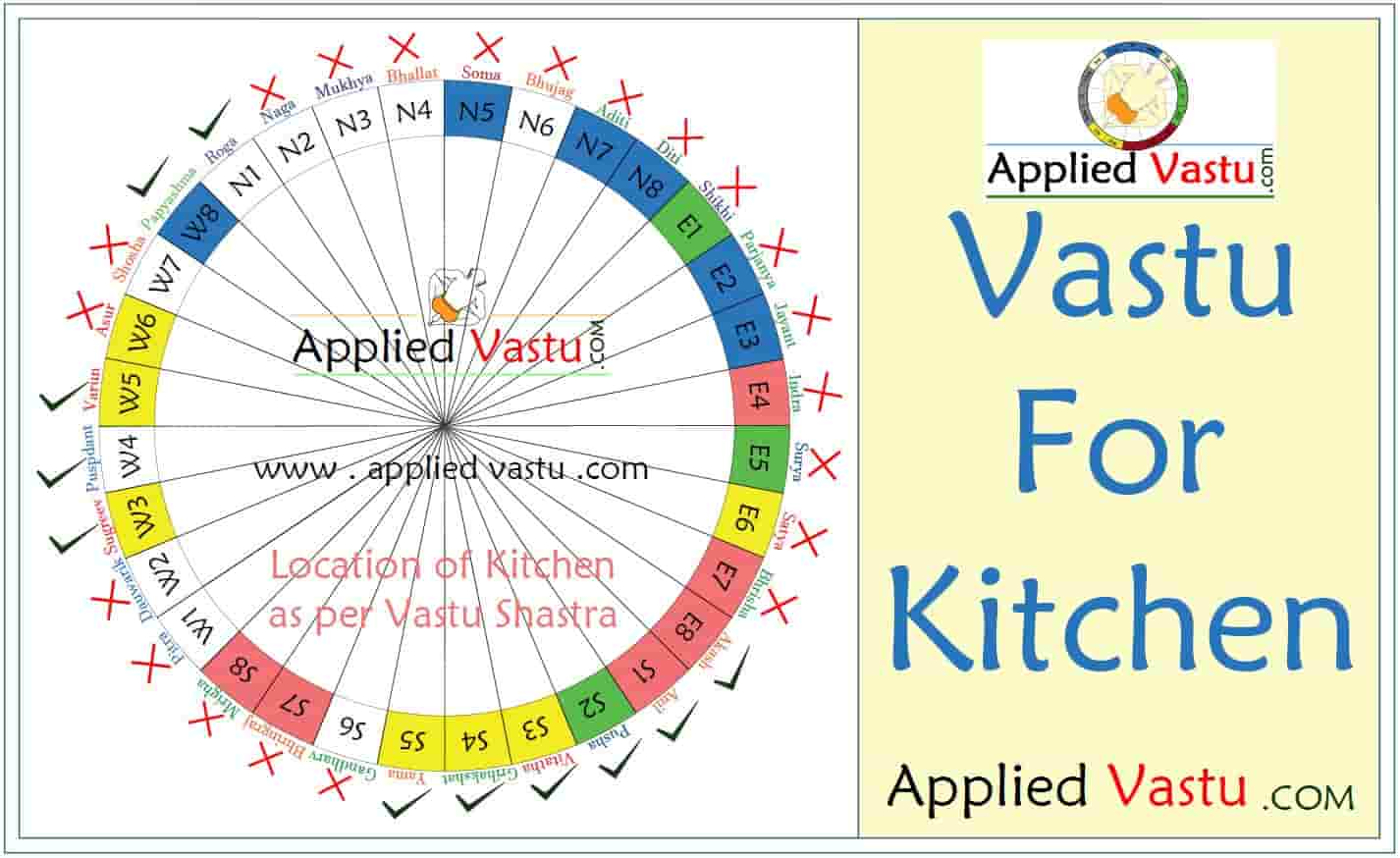 We all know the vastu for kitchen is an essential part of a home. It is the kitchen vastu where all our family members are not only seen cooking but also bonding together and even socializing with others. Today's kitchen is a hub of activity in a modern home.
However, if we have some ideas about what is 'Vastu for Home' actually? Then we should know, the vastu for kitchen, the source of many lip-smacking and delicious dishes, represents the Fire element. Fire, if control is beneficial for us, but it can destroy everything if it goes out of hand. The kitchen vastu is the source of energy. As the food cooked here gives our body energy for a long-term peaceful life.
The word 'energy' here needs our special attention. Now, just imagine! What would happen? If the same food provides us with negative energy. Fire here refers to 'energy'. We discussed the capability of fire earlier.
So, we already can understand the involvement of the kitchen's positive and negative energy with it. For this reason, we should never avoid the importance of Vastu for the kitchen. As 'Vastu Shastra' gives us an insight about it. A kitchen with Vastu defects spread negative energy instead of a positive one. The negative energy provides a negative impact on us.
The condition of our health degenerates slowly. There is a direct connection between body and mind. How can we manage our day-to-day work; while frustrated physically and mentally? According to 'Vastu Shastra', a Vastu compliant kitchen brings luck, good health, abundance, and prosperity to our family.
In earlier ages, our ancestors use wood-fired stoves for cooking. They did it in the courtyard. In those ages, they followed Vastu guidelines or tips according to the position of the Sun and wind directions. This Vastu tradition is followed by many even in today's modular kitchens. So, if we are thinking about remodeling our kitchen or feeling confused about what is the right place for a kitchen as per vastu ? in our house. No need to worry! Experts at Applied Vastu -Vastu Shastra Consultant guides you with certain Vastu tips for kitchen which may help you to design vastu perfect kitchen layout.

Kitchen direction as per Vastu
The five elements vastu shastra Earth, Air, Water, Fire, and space of any house or flat should be in balance. The fire element or ( AGNI ) is located in this part of the house or apartment from southeast to south. Agni Tattva represents strength and cash flow. It is associated with the goddess Lakshmi. On the other hand, a Kitchen is a place where you have to light a fire to make food.
So it is normal for the Kitchen to be located from southeast to south as per vastu shastra. Now the problem is that it is impossible to build the Kitchen of all the houses or flats in this direction from southeast to south, in which case the Kitchen can be placed in any other suggestion?
It is a common misconception that the Kitchen's location should always be to the southeast, according to Vastu Shastra. However, the Kitchen can be built in the west or northwest zones. This is because the West and North-west are both natural locations for kitchen placement.
The places where the kitchen should not be built according to the rules of vastu shastra are North-East, North, East, South-West, respectively. However, the Kitchen located in the North-East is considered the worst.
At the time of purchase, any House or Apartment position of the Kitchen is an essential factor. You may take overall consultation from Applied Vastu before choosing any property.
The location of the Kitchen should be determined correctly at the time of planning or designing a new home as per Vastu. Applied Vastu provides Vastu planning & design services all over India and abroad. Contact Applied Vastu to make Vastu perfect plans.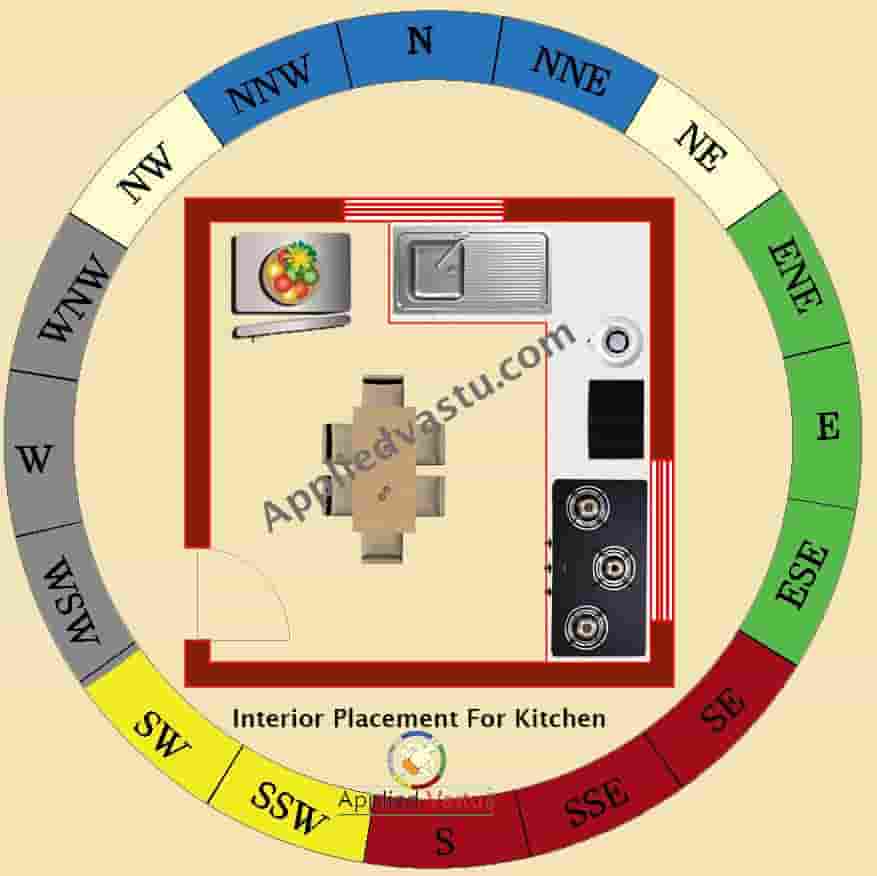 10 Simple and effective Vastu tips for a perfect kitchen
(Vastu of kitchen: guidelines, kitchen directions, color, flooring , layout, Stove, Sink , Oven , slab , cabinet, fridge etc.)
Experts vastu advice for kitchen ( To do )
#1

Ideal kitchen Vastu layout (Kitchen according to vastu Shastra)
The kitchen is treated as the heart of the home vastu. It enhances the positive power of the house if we can build it in the right corner of our housing plot. According to 'Vastu Shastra,' the southeast direction of the home is the place for the 'Lord of Fire'-'Agni.' So, if we follow 'Vastu Shastra,' we have to construct our Kitchen in the southeast corner. However, if we have a bare home and can decide where our Kitchen should be built? (obviously according to 'Vastu Shastra') with full freedom. We are lucky!
#2 Entrance of Kitchen should be in the right direction
Just like the layout, we should be careful about the entrance of the Kitchen. According to 'Vastu shastra' experts, the kitchen entrance should be east, north, or west. Also, it should never fall in any of the corners.
#3 Position of the stove in the Kitchen
Without a gas stove, a kitchen is not a kitchen. We should always keep it in our minds and never forget about it while constructing a Vastu-compliant kitchen. We discussed earlier that the element of fire is guarding the southeast direction. So, we should place the stove always in that direction, according to 'Vastu' tips. We can also use the east direction (auspicious according to 'Vastu Shastra').
#4 Vastu Shastra for Kitchen Sink
Fire Elements and water elements are opposite to each other. They are repulsive to each other. So, we cannot place a sink anywhere near the stove. We also keep in mind that we should put sink and tap (refers to flowing water) in the north-east direction if we follow Vastu tips.
#5 Placement of windows and exhaust fan
According to Applied Vastu experts, we should have a couple of windows in the Kitchen, as windows can keep all negativities at bay. However, according to 'Vastu Shastra,' we should place both windows and exhaust fan in the east direction.
#6 Vastu Colours for Kitchen
According to Vastu principles for kitchen colors, we can never use black color (inauspicious) in the Kitchen. Bright colors like green, orange, red are suitable for the Kitchen. Our Kitchen looks trendy and happy in this way. • Vastu colors for kitchen cabinets If we want to enhance the positivity and grace of our Kitchen according to 'Vastu Shastra,' the bright and balanced shades (lemon yellow, green, orange) are the perfect choice for kitchen cabinets. • Kitchen platform color according to 'Vastu Shastra.' If we want to invite positive and healthy vibes to our Kitchen, we should paint the kitchen platforms green, yellow, and orange.
#7 Placement of Refrigerator
The size of refrigerators is increasing than the days of our grandparents a lot. Right? So, we should find the right place for them in the Kitchen. The southwest direction is perfect for them. But we should keep them at least a foot away from the corners.
#8 Right direction for storage units
We Indians know how storage units are essential in kitchens. The southern or western walls of the Kitchen are the right place for storage units or cabinets.
#9 Right place for electric cooking gadgets
Electrical appliances (i.e., microwaves, ovens, heaters, mixers, etc.) are essential for a modern kitchen. We should always use the southeast direction for these appliances.
#10 The floor of the Kitchen
Just like the color, we cannot avoid the importance of the right floor for the Kitchen. According to experts, ceramic tiles, mosaic, and marble (refers to positivity) are the best options we should choose for flooring. Besides these 10 tips giving a sacred offering to the fire or the first thing, prepared in the kitchen and cleaning kitchen, kitchen floor, and utensils daily at night before sleeping should be done as well. Both these practices bring peace and prosperity to our life.
#11 Vastu for kitchen storeroom
We store our all-year grains and provisions in a kitchen storeroom for their ready availability and emergency use. So, the position of the storeroom according to Vastu principles is essential. The east, north, and southeast directions are right for the placement of the store room's door, and we should always keep our sacks of annual provisions in the southwest direction.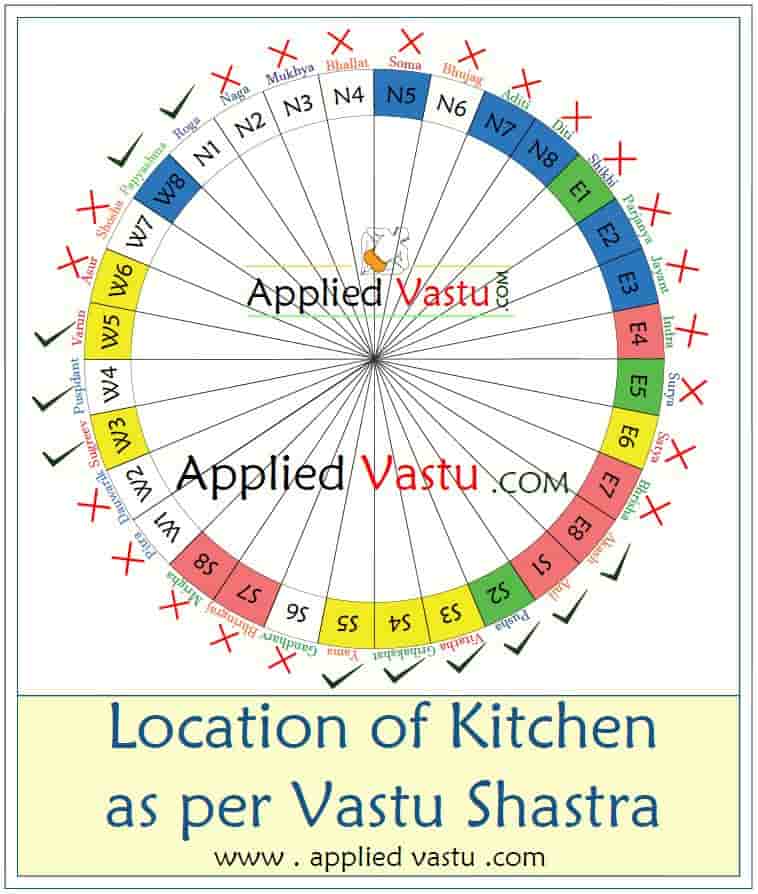 Important Vastu Advice for Kitchen (Not to do)
Don't worry! The Applied Vastu experts don't leave you just with this long to-do list; the experts also guide us in what we must avoid:
• Do not build the kitchen directly under or above the prayer room.
• The kitchen should not be built under or above toilets.
• A kitchen should not be made under or above the bedroom.
• Cooking gas burner or stove should not be directly in front kitchen's entrance door.
• The kitchen made in the northeast is considered a common 'Vastu' defect.
• Facing west while cooking leads to severe health problems.
• Facing south while cooking leads to monetary losses.
• North-East direction is not the right direction for keeping a refrigerator.
According to vastu rules for a kitchen, you should never keep gas cylinder and oven and other cooking range on the same platform or parallel with washbasin. Washbasin, as previously said, refers to a water element. So, these factors, if avoided, affect us and lead to unintentional clashes between couples and family members.
You have to keep the washbasin, the washing machine, water pipes, and the kitchen drain towards the northeast or north direction inside any kitchen. At the same time, you cannot place an overhead tanker in the kitchen facing the north or north-east direction, according to experts. So to balance between the fire and water elements, we should better keep a water tanker outside the kitchen. This balance brings wealth and health.
FAQ On Kitchen Vastu
Q1. Is Vastu Shastra applicable only in the Indian kitchen?
Answer: No. Vastu Shastra can be applied in any kitchen, Whether Indian or Western. The Vastu rules remain the same all over the world. However, Vastu Shastra's rules are the difference between the northern hemisphere and southern hemisphere.
Q2. Will Vastu defects of a rented house's kitchen affect us?
Answer: Yes. Vastu defects will affect not only the owner of the house but also us as a tenant.
Q3. What comes under Kitchen Vastu?
Answer: The oven, cylinder, refrigerator, storage cabinet, washbasin, windows, other appliances, everything come under KitchenVatstu.Everything needs the correct placement.
Q4. Is northwest kitchen good or bad?
Answer: Everything has Vastu remedies. In that case, the electronic material cannot be kept in the southeast or the south wall, we should place the stove in the southeast, and the person, who uses it when cooking, should face it in the east.
Q5. Is northeast kitchen good or bad?
Answer: The answer is no. The kitchen, situated in the north-east or north direction, causes arguments and affects career and bad luck. But again, we have Vastu remedies for north-facing kitchen, suggested by experts. First, you have to Keep the gas stove in the southeast corner of the kitchen, paint the kitchen in blue or lemon yellow shades. Additionally, we cannot keep anything in the northeast portion of the kitchen; we have to keep this portion empty.
Q6.Is the kitchen in the west direction good or bad per 'Vastu Shastra'?
Answer: Yes, the west-faced kitchen is good, according to 'Vastu Shastra.' For example, in Rajasthan, we can frequently see a west-faced kitchen that is thought to invite prosperity to their business.
Q7. Open kitchen and closed kitchen which is better?
Answer: We can see the open kitchen concept is popular among many people nowadays who want to spend time with their guests when busy cooking. An easy serving of food also matters. But, a closed kitchen is for those persons who like privacy while cooking. But no need to get confused about which one is best? For us. The natural light and air circulation have lesser access to a closed kitchen than an open kitchen. But open kitchens sometimes generate negative energies, according to 'Vastu Shastra.' But how can we find the best benefits from both? We can! Vastu experts with their small Vastu remedies can fix it quickly by installing a suitable painting or a small partition in the kitchen.
Q8.What is the best location pantry as per 'Vastu Shastra'?
Answer: The southwest direction of the kitchen is the right place for building a pantry. Keep it in mind, as per 'Vastu Shastra.' Well stocked and clean pantry gives us good luck and prosperity.
Q9. Which color recommend best for the kitchen slab as per Vastu Shastra?
Answer: Besides yellow and orange, we can paint the kitchen slab green according to 'Vastu Shastra'as these colors bring energy and vitality to the kitchen.
Q10. What to do for a non-Vastu complaint kitchen?
Answer: Not every people have money to build their own home or reconstruct them. They may live in a rented house. Some live in their ancestral house. So, in that case, the Vastu defects can easily be removed by some Vastu remedies from Vastu experts.
Conclusion
In a nutshell, you can get the best benefits from 'Vastu Shastra' if it can be applied correctly. So, to get the best services and know more about 'Kitchen Vastu,' you should consult Applied Vastu.Com. Applied Vastu provides you with the best guidance and vastu tips without knocking down our ancestral house.
Keywords:

Vastu Shastra for kitchen, Vastu for kitchen, Vastu tips for the kitchen (guidelines, kitchen directions, color of kitchen walls, cabinets, platform, kitchen flooring), Expert advice(to do and not to do), FAQ.